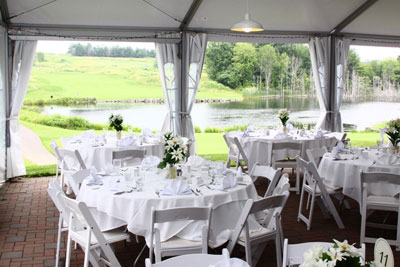 An outdoor wedding can be a unique experience for your special day. Shadow Lake Golf Club offers distinct, beautiful settings for your outdoor wedding venue in Rochester, NY. Our location offers unique options for both your ceremony and reception. Planning your wedding at any either of these venues will help make memories to last a lifetime.
In the 1920s, Shadow Lake was the site of a stone quarry. The quarry was filled with spring water, resulting in a sparkling, beautiful background for one of the premier outdoor wedding venues in Rochester, NY. Picture your wedding ceremony in the outdoor garden tent near the lake or on the generous covered deck. Imagine your wedding photos with the spectacular water as a backdrop. Out of all the available venue options, the amenities and beauty of Shadow Lake make it a perfect choice.
Plan Your Event Today!
Contact one of our Event Coordinators for more information on our outdoor wedding venues in Rochester, NY. With extensive experience planning many types of celebrations, we can help you choose the right location for your special day. Your wedding will be an event you and your guests will never forget.