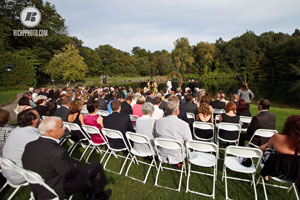 We offer an unforgettable wedding ceremony location in Rochester, NY. With premier facilities to host your wedding, Shadow Lake will make your wedding ceremony an event to remember. You will also enjoy the convenience of being able to have your ceremony, wedding photographs and reception all in one place.
Shadow Lake is one of the most unique wedding ceremony locations in Rochester, NY. The centerpiece of this club is the sparkling lake. Now filled with spring water, this lake was a stone quarry in the 1920s. Have your wedding lakeside in our outdoor garden tent with a brick-laid floor and patio. Can you imagine the shimmering waters as the background for your ceremony? Another option is the large, glass-walled ballroom with amazing views of the lake and golf course. We also have a spacious patio, perfect for summer weddings. No matter what kind of wedding ceremony you want to have, Shadow Lake can accommodate you in a lovely environment that will make your day truly special.
Plan Your Event Today!
Contact our event coordinators for more information on our wedding ceremony locations in Rochester, NY. We're proud to have hosted hundreds of events at our clubs and hope to work with you to make your wedding dreams a reality.