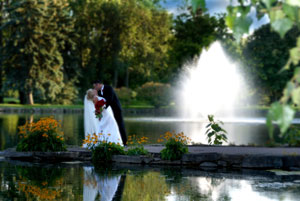 There are so many wedding locations in Rochester, NY to choose from. Which is the perfect one for you? Shadow Lake is an excellent choice to host your wedding. We offer a variety of options for your special day, whether you want to celebrate indoors or out, with a large group or a more intimate gathering. Our Rochester, NY wedding location will certainly make your gathering a unique and memorable occasion.
A large, glass-walled ballroom overlooks the water and the golf course at Shadow Lake. The "lake" is a stone quarry from the 1920s that was filled in with spring water. Picturesque, the lake is a sparkling background for one of the most desirable wedding locations in Rochester, NY. This facility is perfect for both formal and casual gatherings. In addition to the ballroom, a large garden tent with a brick patio is available by the lake for your waterside ceremony. Another possibility is the covered deck. No matter what kind of ceremony you plan, Shadow Lake deserves your consideration.
Plan Your Event Today!
Contact our event coordinators to select a wedding location in Rochester, NY. With over 100 events at our locations throughout the year, we have the experience to help you choose the perfect location and plan the perfect wedding.