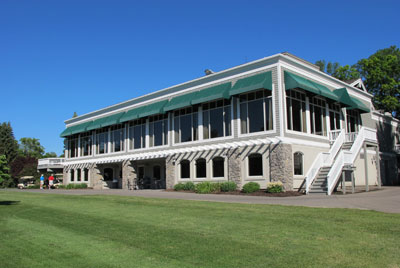 Shadow Lake Golf Club gives you a premium venue for wedding receptions in Rochester, NY. Our location can accommodate a wide range of receptions, from intimate settings to larger rooms, covered patios and outdoor tents. Choosing our facility for your wedding location will help make your celebration a unique, personal experience.
The beauty of Shadow Lake makes it a perfect choice among wedding reception venues in Rochester, NY. The picturesque lake is a former stone quarry from the 1920s that was filled in with spring water. The property is decorated in the American Arts and Crafts style, with Mission oak and Stickley furniture throughout. This location is ideal for both formal and casual gatherings, with facilities ranging from The Tap Room to a large glass-walled ballroom overlooking the lake and golf course. Outdoor options for your reception are the outdoor garden tent and the covered patio. Shadow Lake offers unique amenities not available at other wedding reception venues in Rochester, NY.
Plan Your Event Today!
Contact an event coordinator for more information on our venues. Choosing either of our wedding reception venues in Rochester, NY will give you a uniquely special event, with memories to last a lifetime.