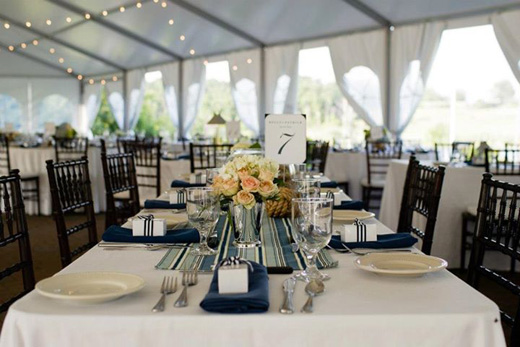 There are many venues that host wedding receptions in Rochester, NY, but for your reception, you want a place that is unique as you are. Shadow Lake Golf Club is a premier facility for your celebration. Our location provides a variety of options, from settings for smaller gatherings to spacious rooms and outdoor tents. You'll certainly be pleased with our location for wedding receptions in Rochester, NY.
Shadow Lake is a former stone quarry from the 1920s that has now been filled by spring water. The shimmering water is a unique background for one of the premier locations for wedding receptions in Rochester, NY. There is a large, glass-walled ballroom overlooking the lake and the golf course. Imagine this picturesque setting for your wedding celebration. Also near the lake is an outdoor garden tent with a brick laid floor and patio as well as a large, covered deck. Perfect for both formal and casual gatherings, the property is brightened by American Arts and Crafts décor. Shadow Lake is an exceptional setting for wedding receptions in Rochester, NY.
Plan Your Event Today!
Contact one of our event coordinators when you are ready to plan your wedding reception in Rochester, NY. We're proud to have provided hundreds of couples with memories that will last a lifetime.